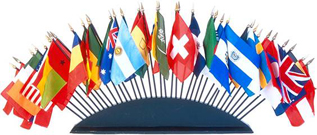 Obtaining a Second Passport
and Dual Citizenship
A second passport is probably the most useful and coveted tool in deploying your multiple flags strategy. Obtaining a second passport is essential in protecting one of your most important assets . . . FREEDOM OF MOBILITY.

One of the most important steps you can take to protect your freedom is to insure that the government that issued your first passport can not restrict your ability to travel outside the borders of your home country. Many people don't realize that they do not even own their passport. It is actually the property of the government who issued it . . . who can cancel it anytime they want, in order to keep you as a tax paying, government slave, working to pay off the debt from their reckless fiscal mismanagement. This a very serious threat on your freedom . . . and a second passport is your best insurance against this threat.

As another example to illustrate the importance of holding a second passport, imagine that a terrorist or political event occurs in your country resulting in the overthrow of the present system of government. Martial law would likely be imposed with a military government taking over your country in order to control the population . . . in such a scenerio, holding a second foreign passport would be essential to maintain your freedom.

Second passports also make a great tool for international investing. Citizens of some countries are restricted by some offshore investment companies and can not invest in those companies because of their citizenship. But with a second foreign passport, you can invest in many more countries without any such restrictions.

You definitely need a second passport if:
Your passport has to be renewed more frequently than every ten years.
You need visas to visit places you want to go.
Your Government can revoke, confiscate or suspended your passport at any time.
Your Government monitors and can control or limit your travels.
Your Government limits your investment and entrepreneurial options.
Your Government taxes your income, assets and capital worldwide.
Your Government forces you and your children to serve in the millitary.
Your passport puts you at risk from hijackers and terrorists while travelling.
Your Country is politically unstable.
You are subject to persecution for your religious or political beliefs
You want to change the country of your permanent residency and domicile.
You want to expatriate from your country.
Obtaining Dual Citizenship
Obtaing a passport is a privilage that comes with citizenship. Obtaining a second passport is a privilage that comes with dual citizenship. Given the great importance of obtaining a second passport, it goes without saying that planting one or more citizenship flags should be the cornerstone of any multiple flags strategy.

When it comes to dual citizenship (which could refer to multiple citizenship) the world is divided: Some countries allow their own citizens to acquire another citizenship without losing their present citizenship, while other countries do not. In those countries which do not honor dual citizenship, the acquisition of another citizenship requires the renouncement or loss of the present citizenship.
Countries which DO allow Dual Citizenship
Albania
Antigua
American Samoa
Armenia
Australia
Azerbaijan
Bangladesh
Barbados
Belize
Brazil
Burkina Faso
Cambodia
Canada
Cape Verde
Chad
Costa Rica
Colombia
Cyprus
Dominica
Dominican Republic
Ecuador
Egypt1
El Salvador
Finland
France
Germany*
Ghana
Greece
Guatemala
Grenada
Hong Kong
Hungary
Iceland
Iran
Ireland
Israel
Italy
Jamaica
Jordan
Kazakhstan
Kosovo
Latvia
Lebanon
Lithuania
Luxembourg
Macedonia
Malta
Mauritius
Mexico
Moldova
Montenegro
New Zealand
Nagorno-Karabakh
Panama
Portugal
Romania
Russia
Rwanda
Serbia
Spain (only in certain cases)
Slovakia
South Africa
Sri Lanka
St.Kitts & Nevis
Switzerland
Syria
Togo
Tonga
Transnistria
Turkey
Turkish Republic of Northern Cyprus
United Kingdom
United States of America
Vatican City State
Vietnam
Western Samoa
1Persons retain their former citizenship only if they apply to do so prior to taking out another citizenship. Otherwise citizenship is generally lost ex lege.
Countries which do NOT allow Dual Citizenship
Austria
Belgium
Bolivia
Burma
Brunei
Chile
China
Cuba
Denmark
Ecuador
Fiji
Honduras
Indonesia
India
Iraq
Japan
Kazhakstan
Kenya
Kiribati
Kuwait
Latvia
Lithuania
Malaysia
Mauritius
Mongolia
Myanmar
North Korea
Nepal
Nicaragua
Norway
Pakistan
Papua New Guinea
Peru
Philippines
Poland
Portugal
Romania
Saudi Arabia
Singapore
Solomon Islands
South Korea
Sweden
Thailand
Turkey
Ukraine
Venezuela
Viet Nam
Yemen
Zimbabwe
Dual citizenship obviously involves two countries . . . each with it's own set of laws,
but in general there are five ways to aquire citizenship:
Birth within the borders of a nation's territory
If your child is born within the borders of a foregin country, in most cases he/she automatically becomes a natural citizen of that country.
Ancestry
Several countries grant full citizenship based on the law of blood (jus sanguinis) even without a descendant ever having lived in the country. All one needs is a parent or grandparent who is (or was) a citizen of that country.

Ireland: One the best of these ancestral programs is offered by the Republic of Ireland. Persons with one parent or grandparent born in Ireland are eligible for Irish nationality, with a passport valid for 10 years and renewable. As a result, with a population of only 4.1 million, Ireland has over 14 million current official passports in circulation.

Italy: The Republic of Italy offers a similar program. The children and grandchildren of former Italian nationals can qualify for citizenship on the basis of any of the following: 1) a father who was an Italian citizen at the time of a child's birth; 2) a mother who was an Italian citizen at the time of a child's birth after January 1, 1948; 3) the father was not born in Italy, but the paternal grandfather was an Italian citizen at the time of birth; or 4) the mother was not born in Italy, but for those born after January 1, 1948, the maternal grandfather was an Italian citizen at the time of the mother's birth. In addition, ethnic Italians who cannot qualify under ancestry rules can qualify for naturalization after only three years legal residence in Italy.

Poland: Poland changed its laws a few years ago so that persons whose parents or grandparents were Polish citizens may be eligible to obtain citizenship. Citizenship can be claimed only by descendants of Polish citizens who left Poland after the country became an independent state in 1918. However, there can be no break in Polish citizenship between the emigrant ancestor and the descendant. Application for "Confirmation of Possession or Loss of Polish Citizenship" can be made through Polish embassies or consulates.

Other countries that offer citizenship based on the citizenship of parents or grandparents include Spain, Greece, Lithuania and Luxembourg. Spain also offers a reduced two-year residence before citizenship to citizens of any of several Latin American countries. Portugal and Brazil have a similar arrangement.
Marriage to a citizen
Most countries will grant full citizenship to a foreigner who marries a citizen.

After the marriage, eligibility for fromal naturalization typically occurrs after

Residency has been established
Some minimum period of residency has elapsed
Religion
Some Countries, like Israel, for example, offer citizenship based upon religion. In the case of Israel, The "Law of Return" also known as "Right of Aliyah" is a program by which citizenship can be obtained for any Jew who has expressed his desire to settle in Israel. An Oleh (new immigrant) visa is required for an Aliyah to enter the country.
Citizenship-by-Investment (Economic Citizenship)
St. Christopher and Nevis ("St. Kitts and Nevis") and The Commonwealth of Dominica (Dominica) . . . 2 countrires which both happen to be in the Caribbean Islands . . . are the only 2 nations in the world that have true "Citizenship-by-Investment" programs in which, even someone with no prior residency, can obtain official lifetime citizenship in exchange for an economic contribution to the country.

St. Kitts and Nevis Citizenship-by-Investment Unit (CIU) offers 2 options:

The Sugar Industry Diversification Foundation (SIDF) Option

a contribution must be made to the St. Kitts and Nevis SDIF.
Under this option, there are four different categories:

Single applicant: a non-refundable contribution of US$ 200,000 is required
Applicant with up to three dependants (i.e. one spouse and two children below the age of 18): a non-refundable contribution of US$ 250,000 is required
Applicant with up to five dependants (i.e. one spouse and four children): a nonrefundable contribution of US$ 300,000 is required
Applicant with six and more dependants: a non-refundable contribution of US$ 400,000 is required

The Real-Estate Option

An investment must be made in designated real estate with a value of at least US$ 350,000.
Additionally, the following processing and due diligence fees are payable to the Government of St. Kitts and Nevis:
US$ 35,000 for the main applicant
US$ 15,000 for the spouse
US$ 15,000 for any dependent children below the age of 18
US$ 35,000 for any dependent and unmarried children older than 18 but younger than 25.
Children over 18 years but below 25 must be in a full time learning institution and fully supported by parents.
US$ 3,500 due diligence fee per person older than 16 included in the application
Dominica options
The "single option" under which an individual applicant's $75,000 investment is to be divided equally between public- and private-sector projects. The total cost for a single applicant is about $100,000.

In Dominica the "family option" requires a direct cash contribution to the government of $100,000 for a family of up to four people (applicant, spouse and two children under 18-years-old), plus $25,000 for each additional child under 25-years-old. With registration and professional fees of approximately $15,000 added to the basic figure, applicants can anticipate a total cost of $165,000.
The "Economic Citizenship" programs for both of these Caribbean islands countries offer nationality quickly and simply for those who qualify.

Economic Residency - The Dominican Republic (not to be confused with Commonwealth of Dominica) and Panama both offer a fast track to citizenship through their "Economic Residency" programs. Though these programs do not sell citizenship per se, they do offer a fairly simple and straight-forward process for obtaining residency w/o having to actually live there. Once permanent residency has been granted, citizenship (and a second passport) can then be obtained.
The Dominican Republic requirement is that an applicant demonstrate assets or investments equal to RD$500,000 Pesos, which is about US$16,000 under current exchange rates. So, doing something as simple as establishing a US Dollar Bank Certificate of Deposit (with a local bank) in the very affordable required amount will allow you to qualify. In addition, one can become a naturalized citizen within a fairly short period of time (in comparison to other countries) after having achieved Permanent Resident status.

Panama also has for a fairly simple process. It requires establishing a bank deposit in the amount of US$200,000. The naturalization process in Panama, however moves much slower and takes longer than naturalization in Dominican Republic does.
There are several legitimate ways of obtaining a second passport. Front door programs, sometimes also known as "white glove'" programs, offer immigration and second citizenship through recognised and established channels and legislation that can be checked and verified. The advantages of obtaining a passport in this way are that you can be sure you will receive the genuine article (and with it all the benefits of citizenship in the country). However, the process can be long-winded, bureaucratic and expensive, and some of the "white glove" countries may not permit you to retain dual citizenship.

It is worth noting that under U.S. law, having dual citizenship and a second passport does not jeopardize American citizenship. However, U.S. citizens, including dual nationals, must, by law, use their U.S. passport when entering or leaving the United States.

The second possibility for those interested in a slightly more flexible way of obtaining a second passport is the discretionary route. As we have discussed, several countries have recognised and established programs whereby those who invest a set amount in the local economy become eligible for economic citizenship or residency, other factors notwithstanding. However, this is an area in which you must proceed with extreme caution as, although some of the programs to be found on the internet are 100% genuine, the legitimacy of others is not assured.

As we previously discussed, obtaining citizenship (but not necessarily residency) is required to get a second passport. Once you have your citizenship . . . getting your second passport is a mere formality. Essentially apply for it, pay for it and wait for it to be issued.

Bottom line:
For most people, the best option for obtaining a second passport is through ancestry, residence, family ties etc. Normally you can do this on your own without any attorneys or consultants.

Alternatively, obtaining "economic citizenship" in St Kitts and Nevis, and the Commonwealth of Dominica is an excellent way, but for many it could be cost prohibitive.

If you don't qualify through family ties, and you don't want to pay for economic citizenship, then what you can do is apply for residence in a country which is known to be relatively liberal and hassle-free when it comes to granting naturalization after two or three years of residence, and which doesn't care much if you spend a lot of time there in that country during the period you are officially resident. Options that are good in this regard are Dominican Republic and Paraguay and to a lesser extent, Argentina and Uruguay.